MEET OUR STAFF
Bill Rehkop
National Sales Manager
Bill's aviation career started with the USAF in aviation maintenance. In 1969 he opened the Harrisburg, PA branch for Van Dusen and was Regional Manager when Ryder Aviall purchased Van Dusen. Bill then went to work for Cooper Aviation and was Vice President of Domestic Sales North America. Bill remained with the company when AAR purchased Cooper Aviation until 2002 when he became National Sales Manager for Aero Performance. Bill Rehkop has been a very knowledgeable and highly respected executive in the general aviation industry for over four decades.
Pat Nall
Central Plains Outside Sales
Pat has been around aviation his entire life. In high school he worked at the family engine shop tearing down and overhauling aircraft engines. He began his career in general aviation parts distribution in 1984 and has been a parts manager for a large Piper and Cessna service center. He has been a branch manager for two large aviation parts distributors and is now responsible for outside sales in the midwest U.S. for Aero Performance.
Dennis Stockman
Texas Outside Sales
Dennis began his career in aviation as a private pilot in 1974. He started with Van Dusen 40 years ago in the warehouse and worked his way up to inside sales, followed by outside sales, and eventually branch manager in Houston. He continued with outside sales with Aviall and AAR and has been a productive member of the Aero Performance sales team since 2005.
John Copeland
Northeast Outside Sales
John obtained a Bachelor Degree in Business and Commercial Aviation from BJU and is a licenced pilot with Commercial, Multi-engine, and Instrument ratings. He has over 15 years experience in wholesale aircraft parts distribution as Territory Sales Manager in the Northeast states for AAR. John has been with Aero Performance since 2003.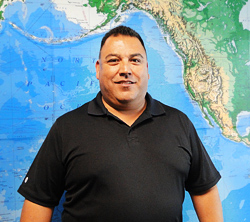 Bobby Bonilla
Southwest Outside Sales
Bobby got his start in the aviation industry in 1984 at Goodyear Wheel and Brake shop. He worked his way up to inspector before leaving to join Goodrich Wheel and Brake as production supervisor. Next, he joined AAR to run the west coast warehouse / branch in the Los Angeles basin. After the branch was closed in 2001, he joined Sky Tower Aviation as sales manager. He then worked with API as an outside sales representative from 2008 to 2014. In 2015, Bobby joined Aero Performance as the outside sales representative for the southwestern US.
Craig Roskelley
Northwest Outside Sales
Craig began his aviation career in 2005 when he Joined Aerospace Products International (API) as a regional manager in the Northwest. Prior to that, he had 15 years experience in the automotive industry as a multi state Regional Manager, supported such companies as; Federal Mogul and Wix filtration. Outside of work he enjoys: car restoration, camping, personal watercrafts and family activities. As of 2015, Craig is responsible for outside sales throughout the Pacific Northwest for Aero Performance.
Phil L'Heureux
Arizona Outside Sales
Phil received his SEL Pilot's License in 1977 and two years later started his Aviation Parts career at Elliott Aviation in Minneapolis. His experience in parts support for FBO maintenance continued to grow with his years with a Piper Distributor at Flying Cloud Airport. Phil has also been a Sales Representative for Aviall, API and Varga Enterprises. In 2015, Phil transitioned to Aero Performance and will be responsible for outside sales for the Southwest Region.
John Thomas
Fort Worth Branch Manager
John began his management career as Operations Manager for FedEx in Wichita Falls, TX in 1994. He moved to Dallas to work for Sky Courier in 2000 as their District Manager. From 2002 through 2015 he worked as Warehouse Manager for DHL, Weir SPM and Total Equipment and Services at various locations in the greater Fort Worth area. His leadership abilities and extensive experience in logistics promise to make Aero Performance continue to improve efficiency and accuracy in processing and delivering orders.
Johnny Myles
Fort Worth Warehouse Manager
Johnny Myles has 15 plus years in distribution and logistics. Johnny started his career with Fleetpride/PDC Truck &Trailer Parts as an order puller. After six months, he worked his way to become Warehouse Supervisor. Johnny then took on the role as Warehouse Office Supervisor and Warehouse lead for Saddle Creek Logistics for 8 years. Now, Johnny has been in aviation with Aero Performance for 6 years, and in 2018 was promoted to warehouse manager for the Fort Worth branch.
Donna Brogdon
Fort Worth Inside Sales
Donna started with Tex-Air Parts in 2001 with various duties over the years including purchasing, ILS Sales, counter sales, Internet sales, and inside sales and remains with Aero Performance in Fort Worth with the same responsibilities.
Linda Hamilton
Fort Worth Inside Sales
Linda began her career in aviation after high school working for an FBO in Fort Worth responsible for sales of parts, avionics and composites. Since 2002 she was with Tex-Air Parts doing inside sales, counter sales, and internet sales and now does the same for Aero Performance Fort Worth.
Gene Hodges
Fort Worth Inside Sales
Gene got his start in aviation in 1989 working on airplanes while going to A&P school and received his A & P certificate in 1992. He went to work for a large Cessna dealer as an A & P, and later moved into the parts department doing parts sales and technical support. Gene joined Tex-Air Parts in 1997 and is responsible for parts sales and technical support for Aero Performance.
Paul Disper
Chicago Branch Manager
Paul has 35 years of experience in the general aviation distribution industry, with past positions in warehouse, inside sales, purchasing manager, and outside sales. He joined Aero Performance in 2003, was appointed St. louis branch manager in 2006, and moved with the branch to West Chicago in 2018. Paul is married with two sons.
Chad Misko
Chicago Inside Sales
Chad got his start in aviation with Sabreliner Corp in 1995 working on government contracts, and later moved into Sabreliner parts sales. Next, he worked for St louis based AVMATS from 2005 to 2006. Chad has been with Aero Performance Cahokia since March 2006 and is based in St. Louis serving the Midwest customers. Chad has 3 children.
Joe Hillings
Chandler Branch Manager
Joe began his career as a C-130 Crew Chief in the USAF out of High School. He then took his skills and expertise to advise the Royal Saudi Air Force on their transport aircraft maintenance program and became a Project Manager. Returning to Phoenix, AZ in 2012, he used his A&P License and began general aviation aircraft maintenance with Lufthansa Aviation Training. Joe spent the next 4 years with TransPac Aviation Academy with the various roles of A&P mechanic, shift lead and inspector, project manager and ran the parts room. We were happy to bring Joe to Aero Performance in 2017 as the Sales Manager. His experiences and leadership found him to become the Branch Manager of our Chandler, AZ warehouse in 2018.
Ryan Reichmuth
Chandler Inside Sales
Ryan attended Palomar College where he obtained an Associate of Science Degree in Aviation Operations and Management. He joined the Aero Performance team in 2016 and has over 15 years of customer service and inside sales experience. In his spare time, he enjoys playing golf, fishing and travel.
Rick Plute
Chandler Inside Sales
Rick attended Northwest Aviation College for his flight training and earned his Associate Degree from Bellevue College in Washington State. He is a general aviation pilot with over 25 years of sales experience. While in Spokane, Rick worked for EDMO Distributors as a Regional Sales Manager. After relocating to Phoenix, Rick was VP of Sales at Guardian Avionics. Most recently, he was a Regional Sales Manager at Aerospace Products International (API) before they ceased operations.
Patrick D'Antoni
Chandler Inside Sales
Patrick's aviation background started in the United States Navy where he worked in fighter squadrons on board forward deployed aircraft carriers. From 1984 to 1992, Patrick worked on all operational and maintenance requirements for F4 Phantoms, F14 Tom Cats and F/A18 Hornets. Following his military service, Patrick's civilian career was focused to technology systems where he has worked in account management, branch management, regional manager and national sales manager. Patrick is excited to be part of the Aero Performance team and brings with him his genuine passion for aviation, business expertise, and the desire to provide our customers with the absolute best in customer service and support.
Jenny Sheldon
Southwest Inside Sales
Jenny got her start in aviation in 1989 working for Sabena Airline Training Center as a parts manager in Scottsdale, AZ. In 2000, she took a Parts Manager and Team Leader postion with Ly_con Aircraft Engine Rebuilders in Visalia, CA and continued working there until 2005. In that year, she began a 10 year tenure with Aerospace Products International working from Kingman, AZ as an Account Executive. In early 2016, Jenny joined Aero Performance as an inside sales and account representative. Her extensive knowledge and experience makes her a tremendous asset and resource for Aero Performance and it's customers.
Greg Hisky
Mid-South Outside Sales
Greg soloed on his 16th birthday in 1975. After attending A&P school at MATVS in Memphis, he worked as a lineman / mechanic for Keith Wilson Aircraft. Greg then for worked 38 years with Aviall as a flying salesman where he accumulated over 10,000 hours flight time selling all over the south. Currently residing in Memphis TN , Greg and his wife have 3 children and 1 grandchild, where they enjoy working and investing time in youth baseball.
Pat Gentile
Harrisburg Inside Sales
Pat has been in aviation for the past 33 years since graduating from Pittsburgh Institute of Aeronautics with an A&P License in 1984. He started working for Rockwell International in Columbus, OH as a structures mechanic in the Nacelles final assembly department. From there he worked for Executive Jet Aviation on Lear Jets and Citations in the maintenance department and decided to take advantage of a sales opportunity and immediately found his calling in life. Working for such companies such as AVSCO, Cooper/AAR and API in Parts Sales and with CAE Simuflite selling multi-year pilot simulator training contracts. He dabbled in Maintenance Sales with Raytheon and Stevens but came back home to parts sales and is loving life again. Calling on the same people in the Great Lakes Region for a number of years has made him a regular fixture in the area and his big smile gets him in the door.
Shane Rampy
Southeast Outside Sales
Shane began his career in aviation with Champion Aerospace in 1996 as a machinist. During his twenty year tenure, his roles included: Technical Support, Marketing Manager and Aerobatic Performer Coordinator. After years of jumping out of perfectly good airplanes he now enjoys riding his Harley through the Carolina mountains. Shane looks forward to bringing his years of experience and passion of airplanes to all of our customers in the Southeast.
Jamie Crochet
Harrisburg Warehouse Manager
Jaime started part time at Aero Performance during high school. He then did co-op with Aero Performance for his senior year. After graduating high school, he began to work full time with Aero Performance. He now has 13 years of warehouse and aviation experience, and was promoted to warehouse manager of the Harrisburg, PA branch in 2018.
Dick Crochet
Harrisburg Branch Manager
Dick began his aviation career with Van Dusen in 1978 as an inside sales representative in the New Orleans branch and continued on with Aviall in New Orleans. He moved to Harrisburg, PA as branch manager with Cooper Aviation in 1990 and remained in that position until Aero Performance took over that facility in 2002.
Ron Nissel
Harrisburg Inside Sales
Ron started his aviation career with Cooper Aviation in inside sales in 1995 and remains in that position today with Aero Performance in Harrisburg, PA.
Liz Pavlacka
Northeast Inside Sales
Liz started her career in aviation in 1988 with Superior Air Parts as an Administrative Assistant. During her 10 years with Superior, she was promoted to Inside Sales and then Assistant Branch Manager. In 2001, she joined A.E.R.O. Inc as an Inside Sales Representative and later was promoted to Branch Manager. Liz started with Aero Performance in September 2018 as an Inside Sales Representative working out of Bath, PA.
Jan Herring
Southeast Inside Sales
Jan's aviation career began in 1976 with Atlantic Aviation working in the parts department. Over the past 38 years she has been a very productive insides sales representative for Cooper Aviation, AAR, API, and for the past nine years for Aero Performance. Jan is based in central Georgia.
To place an order, please call TOLL FREE (877) 785-AERO2376 Copyright © 2019 • Aero Performance. All rights reserved.